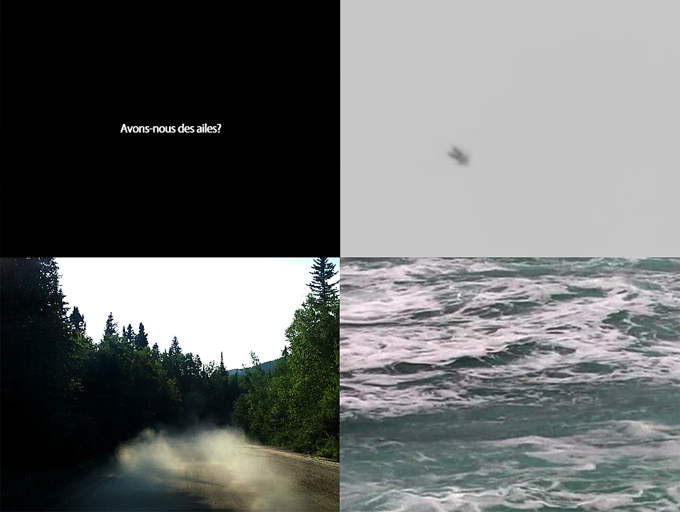 Nayla Dabaji, Interval / Intervalle (stills), 2014, 8:11 minutes, Single-channel video

Distribution: Vidéographe
A fictional character falling down from the sky recalls her/his previous failed attempts to cross the border, which she/he magically survives each time. The causes and the consequences of the fall are not revealed, permitting the video to focus on an interval of time and explore both the idealism and the deception linked to migration.
Un personnage fictif échouant du ciel se souvient de ses vaines tentatives à traverser la frontière qu'elle/il survit miraculeusement à chaque fois. Les causes et les conséquences de cette chute ne sont pas révélées, permettant ainsi à la vidéo de se concentrer sur un intervalle de temps et d'explorer à la fois l'idéalisme et la déception qui découlent de la migration.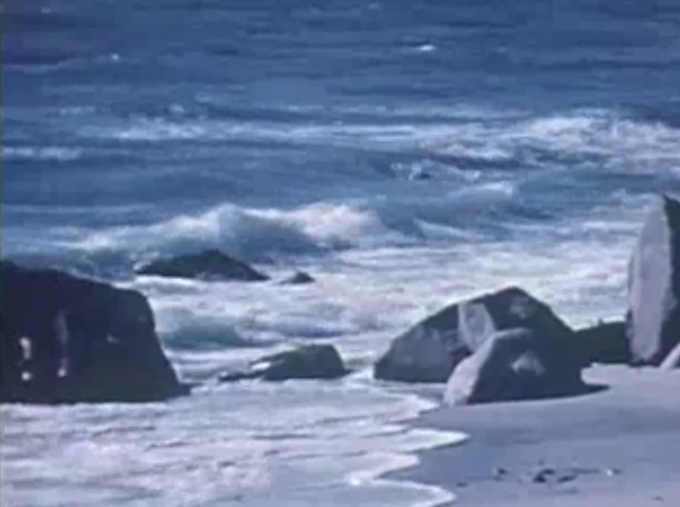 Nayla Dabaji, Waves (still), 2014, 2:25 min, 1 channel video Installation (Loop)
A journey in search of purpose emerges from the contemplation of the sea and unfolds into a never-ending road. A fictional character, trapped in a perpetual movement in fragmented places, runs, falls into the sea only to reappear again, sometimes as a woman, a child or a bird.
Un voyage à la recherche d'une résolution émerge de la contemplation de la mer et se développe en une route infinie. Un caractère fictif, emprisonné dans un mouvement perpétuel dans des lieux fragmentés, court, tombe dans la mer pour ensuite réapparaitre sous la forme d'une femme, d'un enfant ou d'un oiseau.